This is an explanation of Gantt, a new function added for Version 9.0.0.
What is Gantt?
Gantt is a core project management function for WBS Gantt-Chart, aimed at helping users use WBS Gantt-Chart more flexibly. It works just like a Jira board.
To create a Gantt, you need to specify one or more Jira projects, or a Jira issue search filter. Issues retrieved via the specified filter will be displayed in WBS Gantt-Chart for users to manage. When you specify a project, a Jira filter is created automatically. This filter is used to create the Gantt.
You do not need administrator authority to create a Gantt.
You can save the detailed settings for displaying WBS Gantt-Chart in each Gantt. These can be edited by an administrator. Any user can be a Gantt administrator. Non-Jira administrators can also be Gantt administrators.
Users can create their own Gantts. They can also share and use Gantts created by other users.
Example
In the example below, the project manager creates a Gantt for the project, configures it for the project, and shares it with his project members.
There are three general users, A, B, and C (non-Jira administrators);

User A creates the Gantt, and is the administrator;

User A shares the Gantt with User B;

User A does not share the Gantt with User C.
The actions that each user can perform with respect to the Gantt are shown in the following table.
| | Display WBS Gantt Chart on Gantt · Work on issue | Confirm Gantt settings | Change Gantt settings |
| --- | --- | --- | --- |
| General user A | | | |
| General user B | | | |
| General user C | | | |
The exception to this is that Jira administrators have the same permissions as Gantt administrators, even if they are not Gantt administrators. So even if the number of Gantt administrators is accidentally set as '0', a Jira administrator can still modify the Gantt.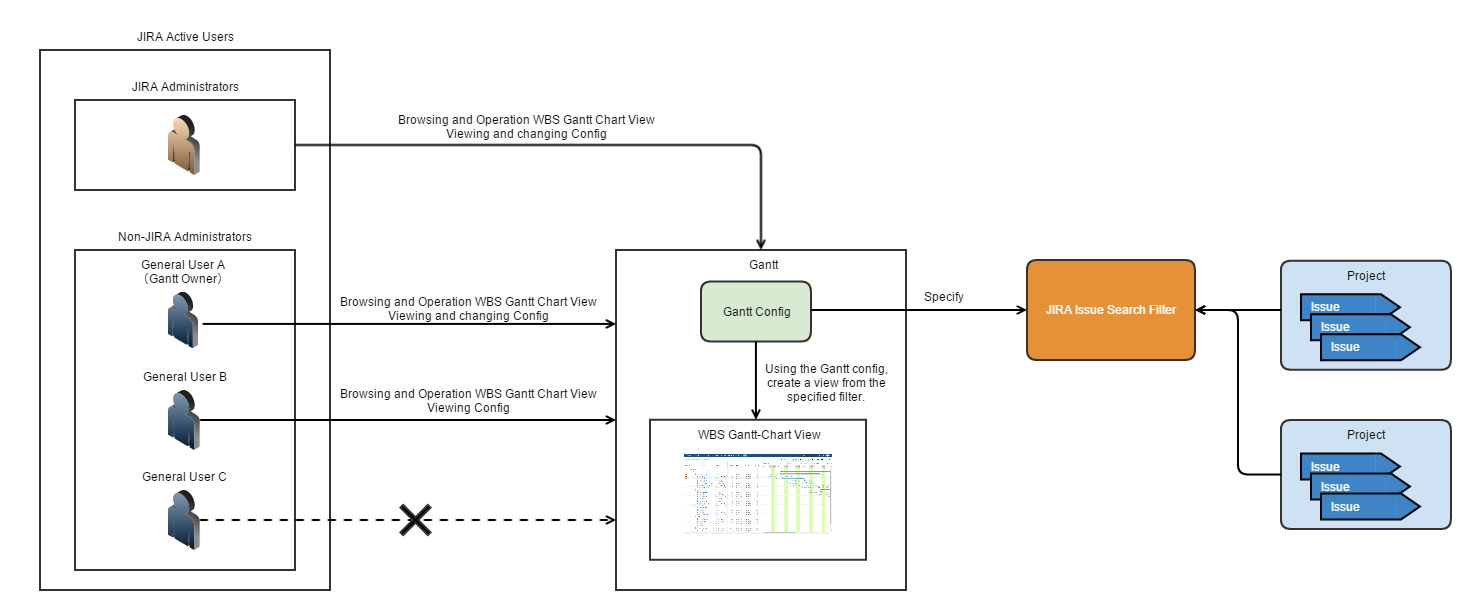 Background to the introduction of Gantt
For the background to the introduction of Gantt, please see the following page.
Information on the introduction of Gantt (for users upgrading from Version 8.7.0 and earlier)
Points to note on Gantt
When using Gantts, it is strongly recommended that you do not to share a single issue across multiple Gantts.
Although the product specifications do allow for this, doing so may cause unexpected performance behavior if the Gantt settings are different.
In order to prevent this from occurring, we recommend you draw up your own guidelines for using Gantts in advance, and distribute these so that everyone in your organization is aware of them.
Additional Help
If you have any questions please feel free to ask a member of the Atlassian community!
Add the tag "addon-jp.ricksoft.plugins.wbsgantt-for-jira" when you ask a question.