Search for tasks on the Gantt chart
Need to find a specific task on your Gantt chart? Open the Features menu, you'll see the Quick Find search option, select the input field where you want to find your tasks: Name, Resources, or Note.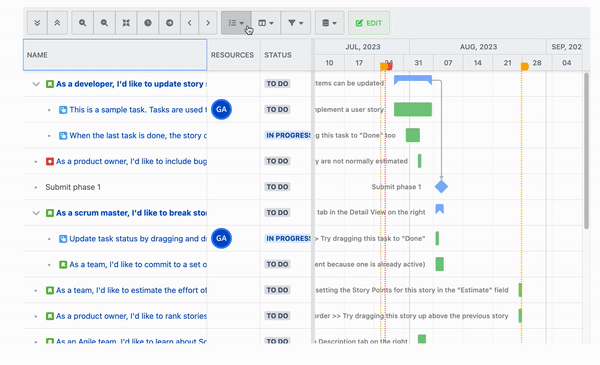 The app optimizes performance by limiting the number of task rows rendered on the page, therefore, using the default browser search will not return accurate results. The Quick Find feature improves searchability by ensuring all data is included in your search. Plus, you can get results from input value that's not displayed on the page, i.e. Jira issue key
To perform a search, input the query text to the column search field:
By Name: Any text included on the task name or issue key (if you're searching for a linked Jira ticket)

By Note: Any text included on the task note

By Resources: The assignee's name
The returned search result(s) will be highlighted in yellow.
You'll see the count of matching results displayed in the cell, click on the arrow or use the keyboard [ctrl]+ [g] to move between hits.