Installation and setup guide
Install the app
The app support Confluence Data Center 7.4 or later
Click the "Try it free" button

Click the "Start free trial" button
Localization
Gantt charts are localized to your language
It uses the user's Atlassian account preferences which are settable at https://id.atlassian.com/manage-profile/account-preferences. So, each user can use their own language.
Some languages support localizing texts and date format while the other languages only support date format localization. If your language is not supported, English(US) is used.
Example
Dutch (Both texts and date format localization are supported)

Italy (Only date format localization is supported)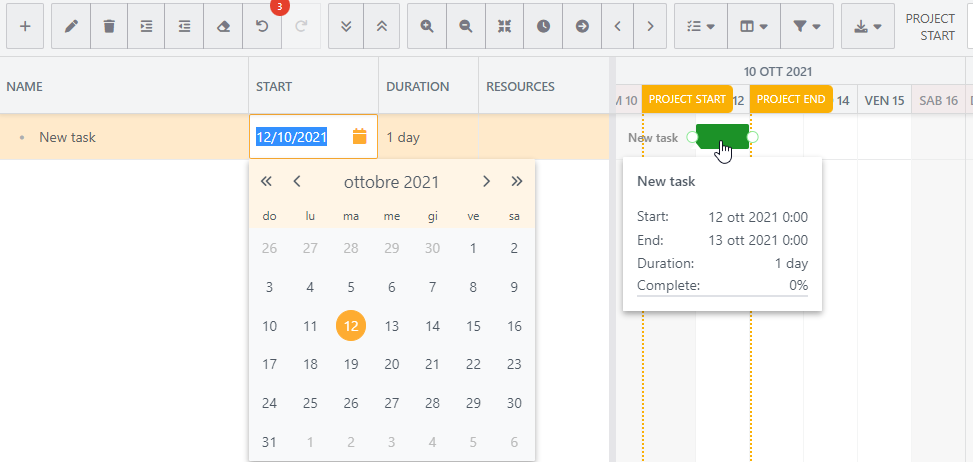 Supported Languages
The app uses English (US) by default.
Text translation supported language will increase step by step.
If you want to request to support your language, please raise a ticket here.
| Language | Date format | Text translation |
| --- | --- | --- |
| Language | Date format | Text translation |
| --- | --- | --- |
| English (US) | | |
| English (UK) | | |
| 日本語 | | |
| 中文 (简体) | | |
| Čeština | | |
| Dansk | | |
| Nederlands | | |
| Eesti | | |
| Suomi | | |
| Français | | |
| Deutsch | | |
| Magyar | | |
| Italiano | | |
| 한국어 | | |
| Norsk | | |
| Polski | | |
| Português (Brasil) | | |
| Português (Portugal) | | |
| Română | | |
| Русский | | |
| Slovenčina | | |
| Español | | |
| Svenska | | |
| Íslenska | | |