Gantt quick filter settings
You can filter issues on the WBS Gantt-Chart screen by registering a quick filter using Jira's JQL. You can learn more about JQL here.
Access quick filter settings
You can access quick filter settings by using either of the two ways below:
From the Gantt list, click on the "Configure" link of the Gantt you want to change quick filter settings, then choose the "Quick Filters" tab in the next screen.

From inside the Gantt chart, click on the Cog icon (at the top-right corner) > Gantt configuration > Quick Filters
Add a quick filter
Type the Name, JQL, and a Description (optional), then click the Add button. Your new Quick Filter will be added to the list below.

Use JQL helper dialog to construct the query you wanted by clicking on the magnifying Glass Icon 🔍 next to the JQL input field.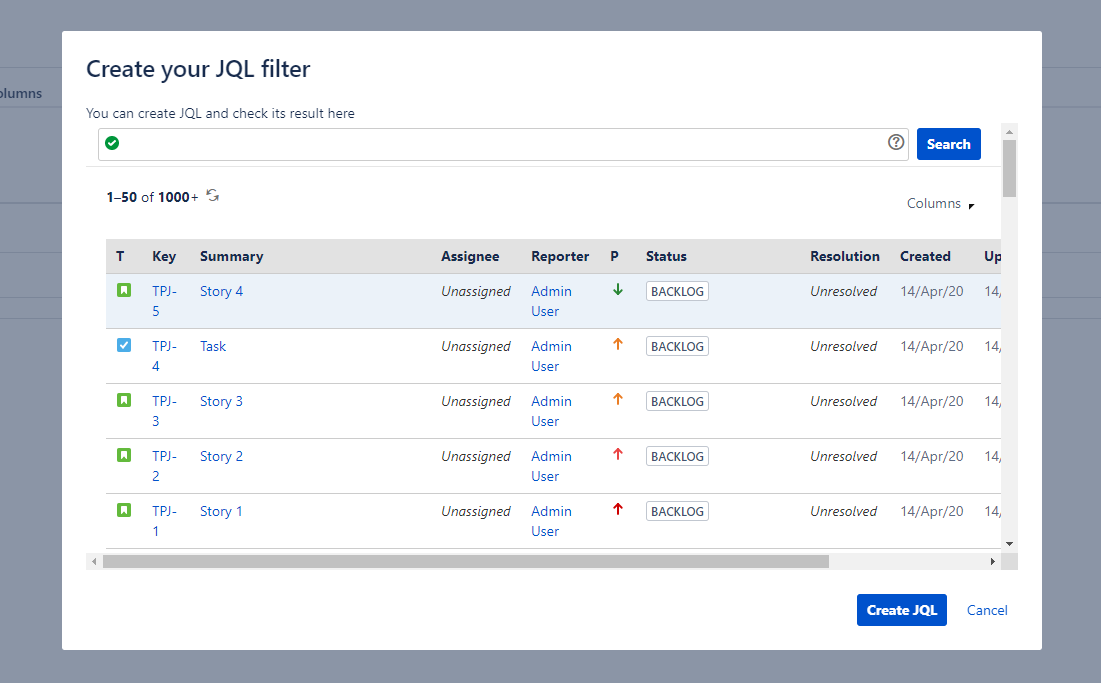 Edit a quick filter
Click the Pencil icon ✏ in Action colunm of a filter

Modify the existing Name, JQL, Description of filter

Click the Check icon to Update a filter.

Click Cross icon to Cancel the modification.
Delete a quick filter
Click Trash icon 🗑 in Action colunm to Delete a filter.
Use quick filters on WBS Gantt-Chart
You can use quick filters created in Gantt configuration.
Click Filter button on the panel of WBS-Gantt to show quick filters in the drop-down menu


Check one or more filter to filter out issues on Gantt screen

Additional Help
If you have any questions please feel free to ask a member of the Atlassian community!
Add the tag "addon-jp.ricksoft.plugins.wbsgantt-for-jira" when you ask a question.